WEB 2.0
Oh yeah! And on other matters of the heart, I'd been talking to someone recently trying to explain briefly what the difference between Web 1.0 and Web 2.0 is - as it is something very dear to me. Anybody interested in New Media Art or who wonders WTF I have such a giant 'coolection' [not a spelling mistake Alex T] of animated .gif files should have a read. Dad - you should read these too instead of coming to my website looking for pictures of boobs.
A Vernacular Web
by Olia Lialina [Web 1.0 shits]
Vernacular Web 2
by Olia Lialina [Web 2.0 shits - with glitter]
And finally, Dragan Espenscheid sent me a really cool Microsoft Paintbrush cartoon he did about some really dumb ravers. It is awesome!
Check It Out Chicky Babes
[I wish Daisy Dee was still on TV - those were the days on VIVA Zwei]
Here is a sample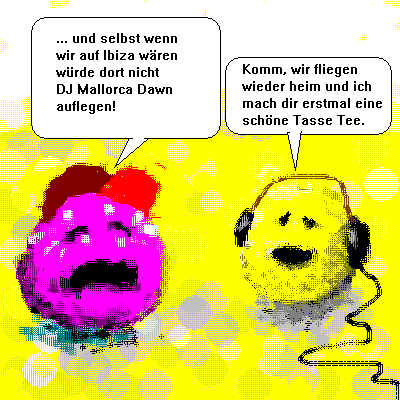 xx Lektrogirl
Labels: Art, Drx, Information, New Media Art, Olia Lialina